Coinsbee Is Now Accepting Payments from Remitano
17. Jan 2022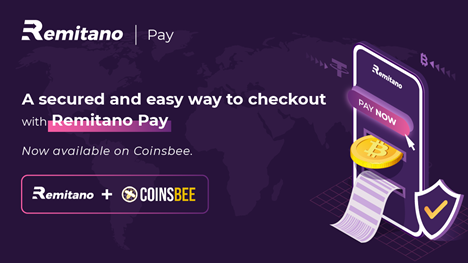 Coinsbee is a platform that makes it easy for people to purchase goods and services using cryptocurrency. The platform offers a wide range of items available for purchase, including gift cards, mobile phone top-up, and payment cards. The platform also offers a variety of discount coupons and vouchers you can use on Amazon and other online shops.
To ensure the best user experience, Coinsbee has added a new payment option on the platform – Remitano Pay. With this new functionality, you can now use your Remitano account to pay for goods and services on the platform.
What Is Remitano Pay?
Remitano Pay is an innovative solution for users to make payments for goods or services in a very convenient way. It is a payment method that allows users to make safe and fast transactions through digital currencies like BTC and ETH. Remitano Pay also uses QR codes to process payments with cryptocurrencies, which makes it convenient for users.
Remitano Pay uses blockchain technology to improve the security of payment information and process, which eliminates the need for third-party escrow agents and payment processors. This allows users to pay in a secure, trustless, and transparent environment without needing to disclose their private information.
With Remitano's reputation as an established cryptocurrency exchange and peer-to-peer platform, Remitano Pay continues to be a useful tool for those who wish to purchase goods and services using digital currencies with the highest level of security and convenience.
Remitano Pay partners with Coinsbee, making it possible for users to pay for their online purchases using their preferred method.
How Can I Use Remitano Pay For Coinsbee Orders?
Coinsbee does not provide services for the purchase or sale of cryptocurrencies. Remitano is a place for you to safely buy and sell your cryptocurrency and use the crypto to purchase goods and services at Coinsbee. Users can make payments with Remitano Pay using a variety of methods. Let's take a look:
Pay with Your Coin Balance Using Remitano Wallet
If you already have a sufficient coin balance on your Remitano wallet, then sending money to Coinsbee is a breeze. Go Coinsbee and choose the product you want to buy. On the checkout page, click the "pay using Remitano Pay" button. Log in to the Remitano account. Then, select your preferred coin and fill out the required fields. Then, in a matter of seconds, your payment will be complete and confirmed.
Deposit Coin from Different Wallet to Remitano Wallet
If you have your coins already in a different wallet, you can still pay with your coins via Remitano Pay. Remitano allows customers to deposit using external wallets. The deposit system is easy to use and makes paying for services very convenient.
First, choose a product you want to buy at Coinsbee. Fill in your order information and click "buy now." select the " pay using Remitano Pay " option. After clicking on that button, you'll be redirected to the Remitano site. From there, you'll be able to transfer coins from your external wallet into your Remitano wallet.
Once the coins have been transferred, you'll then need to return to the Coinsbee site and click on the "I have deposited" button. This will verify that the payment has been made, and it will release your order automatically.
Buy USDT (Tether) With Fiat Currency via Remitano Pay
If you don't have any coins in your wallet, buy USDT with your fiat currency at Remitano to pay for your Coinsbee order. To make a payment, select the USDT option. The system will automatically adjust the amount of USDT in your wallet to match the cost of your order.
Which Cryptocurrencies Are Supported by Remitano Pay?
In order to make the payment process more efficient, Remitano has designed a handy tool that allows Coinsbee users to change their preferred cryptocurrency within seconds before they make a transaction. You can use this feature if you don't have enough coins or if you want to make a more convenient payment with another currency. Remitano Pay allows you to pay with one of the following cryptocurrencies:
| | | |
| --- | --- | --- |
| Bitcoin | Stellar | Uniswap |
| Ethereum | TRON | Solana |
| Tether USDT | Tezos | Avalanche |
| Bitcoin Cash | Chainlink | Terra |
| Litecoin | Ethereum Classic | EURR |
| Ripple | NEO | INRR |
| Binance Coin | Monero | MYRR |
| EOS | Polkadot | NGNR |
| Cardano | Dogecoin | VNDR |
If you are new to the crypto-world, you may not have coins in your wallet. But, Remitano allows you to buy USDT directly with your local currency of choice.
How Long Does Remitano Pay Take To Complete the Transactions?
The Coinsbee platform is very fast. This means that you won't have to wait around for long just to get your goods using any payment method, including Remitano Pay. In fact, most purchases are settled within a minute or less. This can make a big difference in those who are looking to buy a lot of goods or as a way of making regular payments.
Remitano Pay has quickly become the most popular transfer method for Coinsbee. Its payment system is one of the fastest in the industry. Remitano completes the transaction within a minute. This is the first reason why many prefer Remitano. To do this, Remitano uses their own wallet to send the money instantly. When you buy coins on Remitano, it takes less than a minute for your order to be processed and then delivered to your wallet.
Coinsbee takes all measures to ensure that your order is confirmed in a timely manner. It takes only a few minutes to place an order, and almost all the orders are immediately processed. Then after payment confirmation, whatever your product amazon gift card, iTunes gift card, google play gift card will be delivered immediately.
Is Remitano Pay Safe?
Yes. The notable thing about Remitano's payment system is how safe it is. Ordinarily, when you make a transaction online, you are required to send your banking credentials and personal information so that the transaction can be executed. However, Remitano does not require such information. All you need is your Remitano coin wallet address where you want the coins delivered, and you are good to go!
Since Remitano doesn't hold any crypto, it's impossible for them to steal your coins or do anything else wrong. All transactions are made directly between buyers and sellers through an escrow system that ensures everyone gets what they paid for. In case something goes wrong, there's also a dispute resolution center where both parties can solve their problem.
Do I Have to Pay Any Fee for Using Remitano Pay?
There is no fee for using Remitano Pay. The Remitano fee structure is the same as most of the other remittance companies in the market. They have a free service called "pay anyone," which allows you to send money for free.
Through the platform, you are able to send funds quickly and securely without any intermediary or third party. The platform makes use of the bitcoin blockchain technology to ensure fast, cheap, and reliable transactions. However, Remitano's swap services are not free of charge. If you are change coins through the swap feature, it will cost you a 0.25% fee per transaction. This is the same as the other remittance companies.
Please note that the service is charged with bank transfer fees depending on the remittance method you choose to use. Please check with your local banks or financial institutions for their charges.
Can Any Coinsbee Users Use Remitano Pay as a Payment Method?
Yes. Everyone from anywhere can use Remitano Pay. Any Coinsbee users can use Remitano Pay to checkout with cryptocurrency. If you have been waiting for a long time to make payment with your favorite cryptocurrency, you are in luck as now you can do so on Coinsbee with Remitano Pay.
Remitano allows users to buy and sell cryptos through their websites. They offer a variety of payment options for different countries and have a wide range of cryptocurrencies available. Remitano Pay supports over 25 cryptocurrencies, and all of them can be used for making payments on Coinsbee. It also allows users to make instant payments and transfer funds without any additional fee.
Which Goods and Services Can I Purchase from Coinsbee Using Remitano Pay?
You can buy any goods and services from Coinsbee using Remitano Pay. Coinsbee is an e-commerce platform that allows you to buy gift cards, including iTunes gift cards, google play gift cards with your preferable crypto. With its gift card services, you do not need to be online to purchase them; it's just like buying something else locally!
With Coinsbee vouchers, you can also buy on Amazon with bitcoin or other cryptos. It also sells mobile phone top-ups with over 30 top-up destinations worldwide.
Reference
https://beincrypto.com/coinsbee-review-buy-gift-cards-with-bitcoin-other-crypto/
https://bitcoinist.com/coinsbee-review-using-bitcoin-or-altcoins-to-buy-gift-cards-for-the-holidays/
https://www.fxempire.com/crypto/exchange/remitano/review
https://www.daytrading.com/remitano
Page Contents
What Is Remitano Pay?

---

How Can I Use Remitano Pay For Coinsbee Orders?

---

Which Cryptocurrencies Are Supported by Remitano Pay?

---

How Long Does Remitano Pay Take To Complete the Transactions?

---

Is Remitano Pay Safe?

---

Do I Have to Pay Any Fee for Using Remitano Pay?

---

Can Any Coinsbee Users Use Remitano Pay as a Payment Method?

---

Which Goods and Services Can I Purchase from Coinsbee Using Remitano Pay?

---

Reference

---