CryptoGames: Play and Win Multiple Crypto Currencies!
19. Jul 2021
In a world of fast internet connections and a broad range of electronic gadgets, online casinos are always the new hot topic! No matter how old an online gambling site is, the consistent updates raises curiosity without fail.
CryptoGames is one of the finest online casinos you can get at the comfort of your home.

It is running under the Curacao-based organization named MuchGaming B.V.
The casino is known worldwide for its perfectly swift transactions, security protocols and well organized interface. Besides all these, the 8 games offered on the website with their striking visuals is what you can call a chef's kiss!
The updated version of the games takes you back to your days when computer and arcade games were the big things!
A brief guideline for your new favorite online casino!
The website is built by dedicated experts who kept in mind all your wishes and expectations surrounding an efficient online casino.
So, you will be welcomed with the best User Interface that not only is soothing to the eye but, at the same time, accessible through any smart device you own. Their games are all developed to be lightweight and smooth for the gadgets you might own. You will be able to play using 9 different cryptocurrencies. You will also find a well-designed website layout that displays all the necessary links and tabs on one home page.
Easy Registration and Sign-up Process:
CryptoGames has set up the most simplistic and hassle-free registration procedure that only takes a few minutes to complete. All you need to provide is a username, and you are all good to go! You can also assign a random username for you which you can change it into anything you desire later on. Like any other website you would sign up at, CryptoGames also provides you with privacy policy along with terms and agreements during the sign-up process. So, for your own betterment, do go through the policies carefully before you start!
A quick glimpse of the Landing Page:
The sophisticated aesthetic is set by a dark theme that is pleasing to look at without stressing your eyes too much.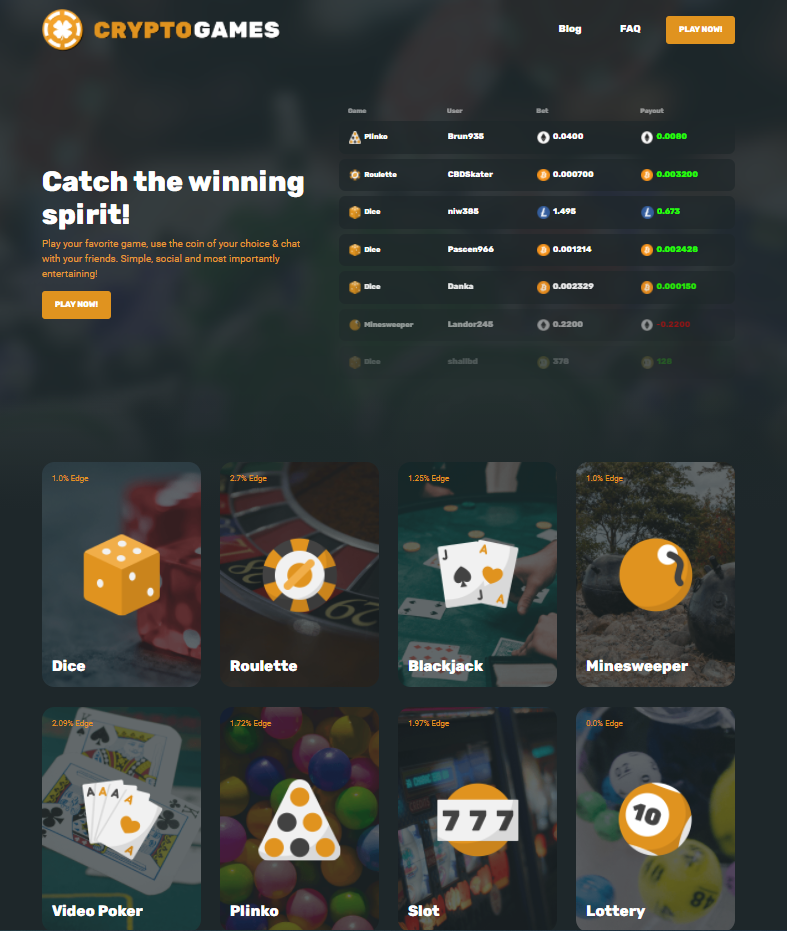 The header of the landing page guides you straight to their Blog, FAQ and Play Now button.
The play button leads you to the first game offered on the site, Dice. It also lets you choose the 9 Crypto coins you can choose to play with.
The blog button takes you to the casino's dedicated blog, where you will be able to find valuable articles to help you adjust better to the environment of gambling. And the FAQ section will help you with all the basic queries you might pile up with if you are new here.
As you scroll down, you will see the neat layout of the 8 classic casino games offered which are Dice, Slot, Roulette, Blackjack, Plinko, Minesweeper, Video Poker, and Lotto. Each of the games is displayed with its latest edges. So, you will get to choose the game that suits your assets without much hassle. As you scroll downwards, you will see 4 sections dedicated to the unique features the casino has to offer, social media handles, sponsors, and other information. Without any flashy ads or popups, the casino guarantees you the sleekest playtime with its neat architecture. You will be able to switch from game to game, shuffle between currencies of your choice all in one go. If this is not alluring you already, then we have more!
Get to know all the games and currencies supported:
Before you dive into the magnificent experience of casino gaming, be assured that the developers of CryptoGames are fair and as transparent as they can be. And with the use of the third-party website RandomPicker, all your Lotto results will be unbiased and unfiltered.
Novice or Veteran, undoubtedly, your path to the world of gambling is paved with the best of the best at CryptoGames casino. CryptoGames offers you all of the widely known casino games with the lowest house edges together on the same plate. This is to bring nostalgia and modernized concept together on the same scale. With the simplest forms and easy guidelines, you will be able to kick start your gambling experience from day 1. Test your chances at winning with beginner-friendly games like Dice, Slot, and the classic Roulette. If you are pretty familiar with those three casino games already, then Blackjack, Plinko, Minesweeper, Video Poker and Lotto are there to enhance your playtime.
"Dice"
Just like the classic version, the modernized version is probably the most beginner-friendly casino game out there. You can follow the simple rules, place a bet, and you are good to go! To play, you need to guess a number that will be your predicted result for the dice. Meaning, you will have to select a number and guess if the resulting number on the dice will be lower or higher than the number you chose. The range for the dice is between 0.000 and 99.999. You will be able to use your own combination of personalized strategies, bet as many times or as much as you desire with the "Auto Bet" Feature. There is also a bonus feature of "Keyboard Shortcuts" for you to use while playing the game. It helps you to roll the dice faster or navigate it as per your preferences. The game of Dice is offering you a whopping amount of 5 BTC as the highest prize you can win from one bet!
"Slots"
If you are a fan of spinning your luck through a reel slot game, then Slots is the perfect match for you! Offering a fair 49.73% chance of winning, the 5-reel slot game is very understandable from a beginner's point of view. The rules are pretty simple.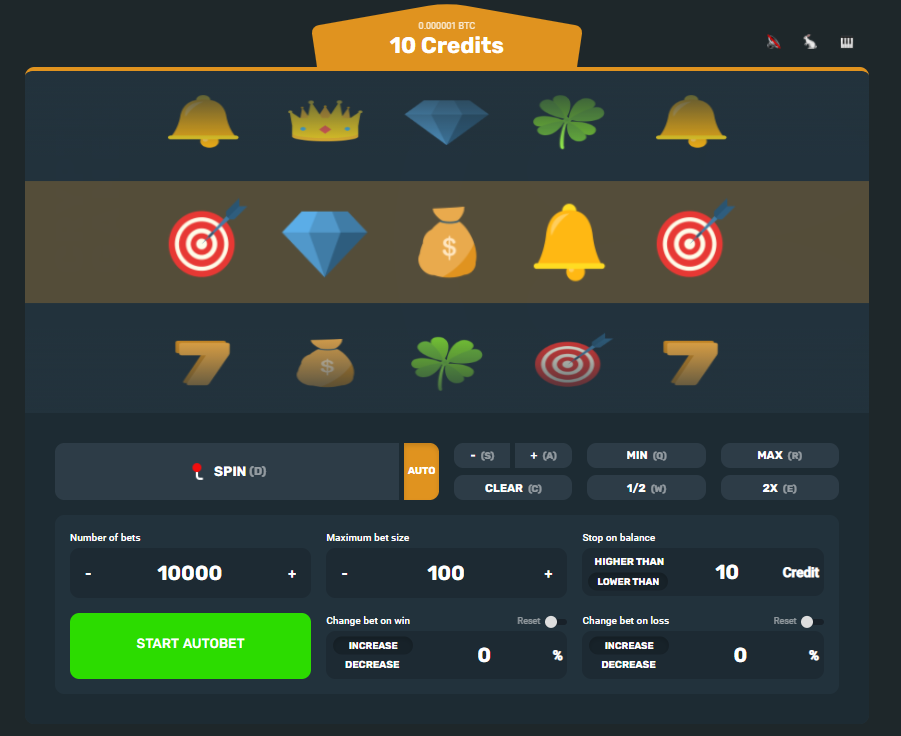 You win every time the slot displays 5 pictures and matches one of the rewards from the payout table. Place the right amount of bet and win the jackpot which is 5 BTC!
"Blackjack"
As many of us already know it as 21, the game of Blackjack is an all-time classic for gamblers around the world. It comes with simple rules and a great payout. All you need to do is ensure your points are higher than the points your dealer has.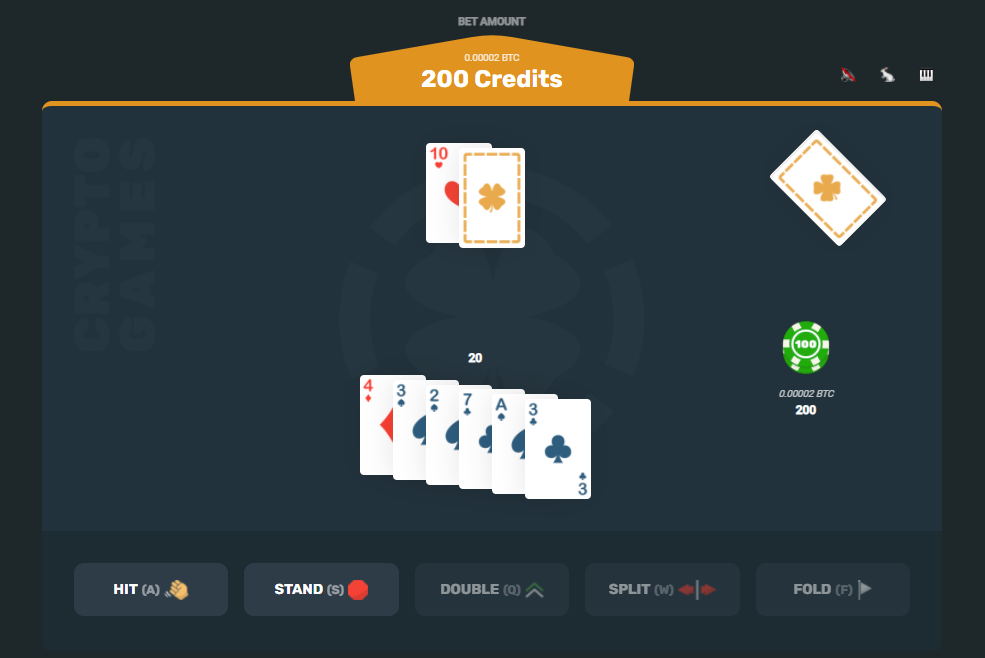 Besides that, if the dealer goes over 21 points, you get an easy win! But you do the same, you lose automatically. Also, you will have the options to Split, Surrender, and Double Down to choose from according to your convenience during the game.
"Roulette"
Remodeled from the ever loved "European Roulette", CryptoGames' advanced version of Roulette comes with the same wager amounts as Blackjack.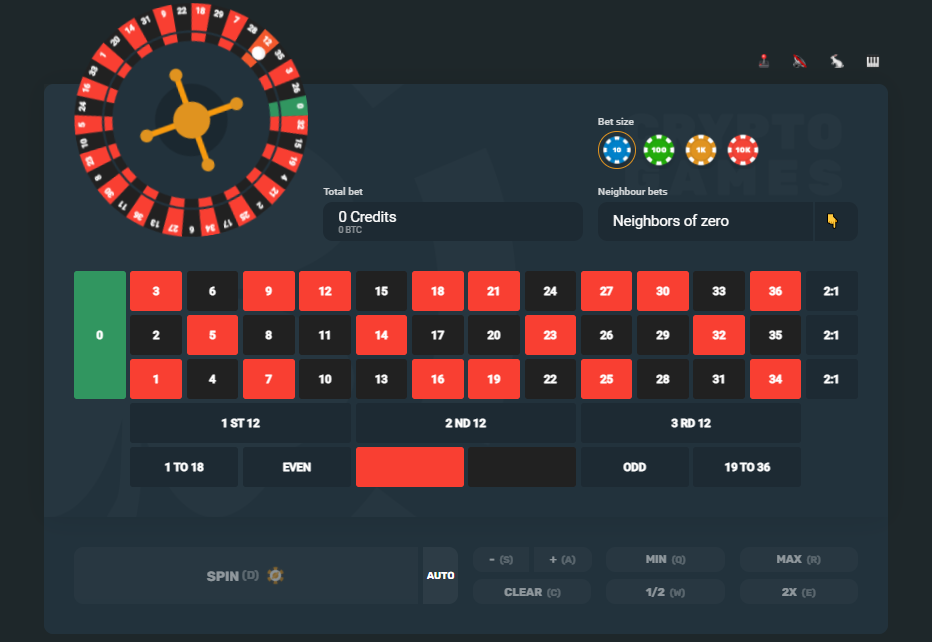 To begin the game, you stack all your chips on the tab according to your instincts and then wait as the ball of fortune is tossed on the roulette. Once the ball reaches the endpoint, you will receive your prize amount predetermined by the payout table.
"Video Poker"
At CryptoGames, you will get not only the original Video Poker but also its different editions. Which are: Better Video Poker or Jacks, and Tens or Better Poker, and Bonus Poker. The advanced and redesigned version of this game increases your chance of winning at an incredible possibility of 1:649,740. Suppose any lucky user wins a royal flush. In that case, s/he will be going home with a prize payout multiplier of 500, which will allow the user to win a maximum of 5 BTC in one single bitcoin bet. Also, with the aid of the "Smart Hold" feature, a user can command the computer to choose which cards to hold on to.
Although, every player should keep in mind that the "Smart Hold" feature chooses cards for them mostly based on what's laid on the table at the "How to play tab". This means that sometimes a player may get and hold better cards than the ones the computer has chosen for them. The "Smart Hold" feature also enables players to use the "Auto Bet" feature.
"Plinko"
Adding to the list of finely crafted games, Plinko stands out with its neat and sophisticated rules.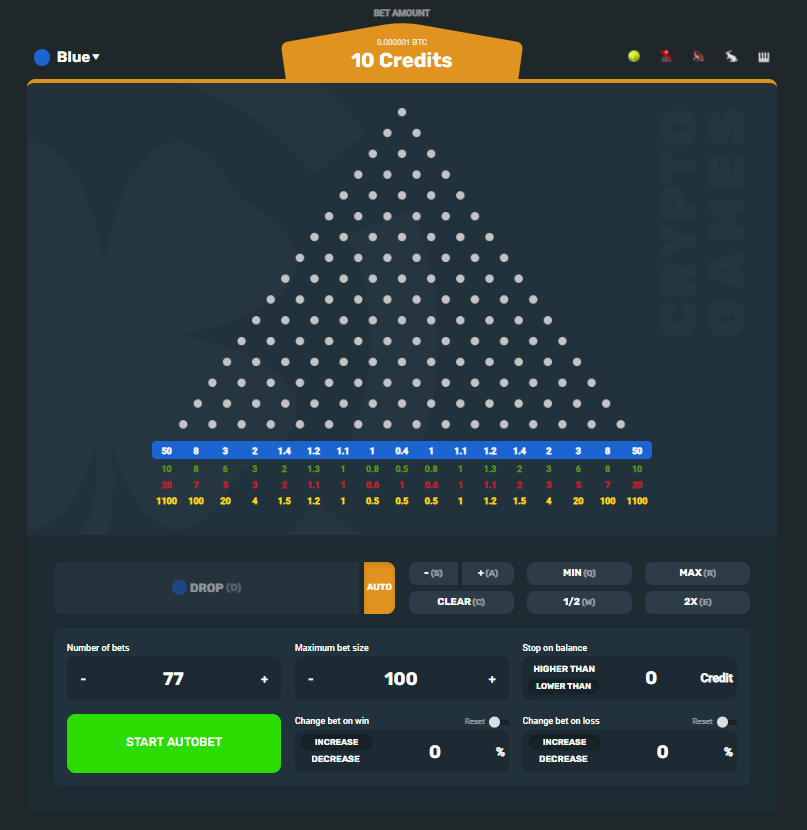 It comes with the same betting amounts as Roulette and Blackjack. To play, you must drop the ball from the highest point of a pyramid and watch it make its way back to the bottom slowly.
Your victory amount will be decided by the slot your ball drops into. The amount of water and the color of a ball must be picked before the game begins. Then, according to the payout table and the slot your ball lands in, you will be rewarded every time you win.
"Minesweeper"
Every 90s kid and computer game lover will be ecstatic to know that CryptoGames offers the classiest game, Minesweeper, for all gamblers. You must clear all the hidden mines in the field as you click on the boxes to win. The rules are kept simple and just as same as the original computer version of the game. By setting the minefields at more challenging levels, you increase your chances of winning double rewards. The toughest level is set with 24 mines and only one empty box.
"Lotto"
Lotto, derived from the one and only timeless Lottery, is made to be chic and thrilling for all gamblers on site. It literally gives you the motivation to Go Big or Go home. To begin, all you need to do is buy your lottery tickets from the "Purchase Tickets" section, and you are good to go. CryptoGames draws a lotto on bitcoins and altcoins every week, so the more you purchase, the better your chances of winning two draws every week!
Credit to currency conversion:
Slot, Blackjack, Video Poker and Roulette balance are displayed in credits. Each of the coin has its very own credit ratio:
For a single Bitcoin, players get 1 million credits.
For a single Ether, players get 50,000 credits.
For a single Litecoin, players get 10,000 credits.
For a single Dash, players get 10,000 credits.
For a single Monero, players get 10,000 credits.
For a single Bitcoin Cash, players get 100,000 credits.
For a single Dogecoin, players get 1 credit.
For a single NeoGas, players get 10,000 credits.
For a single Ether Classic, players get 10,000 credits.
House Edges for the games:
Dice comes with a house edge of 1%
Slot comes with a house edge of 1.97%
Blackjack comes with a house edge of 1.253%
Lotto does not have a house edge.
Roulette comes with a house edge of 2.7%
Minesweeper comes with a house edge of 1%
Video Poker - Jacks or Better comes with a house edge of 2.11%
Video Poker - Tens or Better comes with a house edge of 2.08%
Video Poker - Bonus poker comes with a house edge of 2.09%
Plinko - Green ball comes with a house edge of 1.63%
Plinko - Red ball comes with a house edge of 1.84%
Plinko - Blue ball comes with a house edge of 1.52%
Plinko - Yellow ball comes with a house edge of 1.56%
Play with 9 up to date Currencies and their limits:
As of today, CryptoGames is offering you the 9 latest cryptocurrencies for any kind of exchange and transaction. Following is the list of crypto coins you can use on the website. Bitcoin, Ethereum, Bitcoin Cash, Litecoin, Ethereum Classic, Dogecoin, Monero, GAS, and Dash.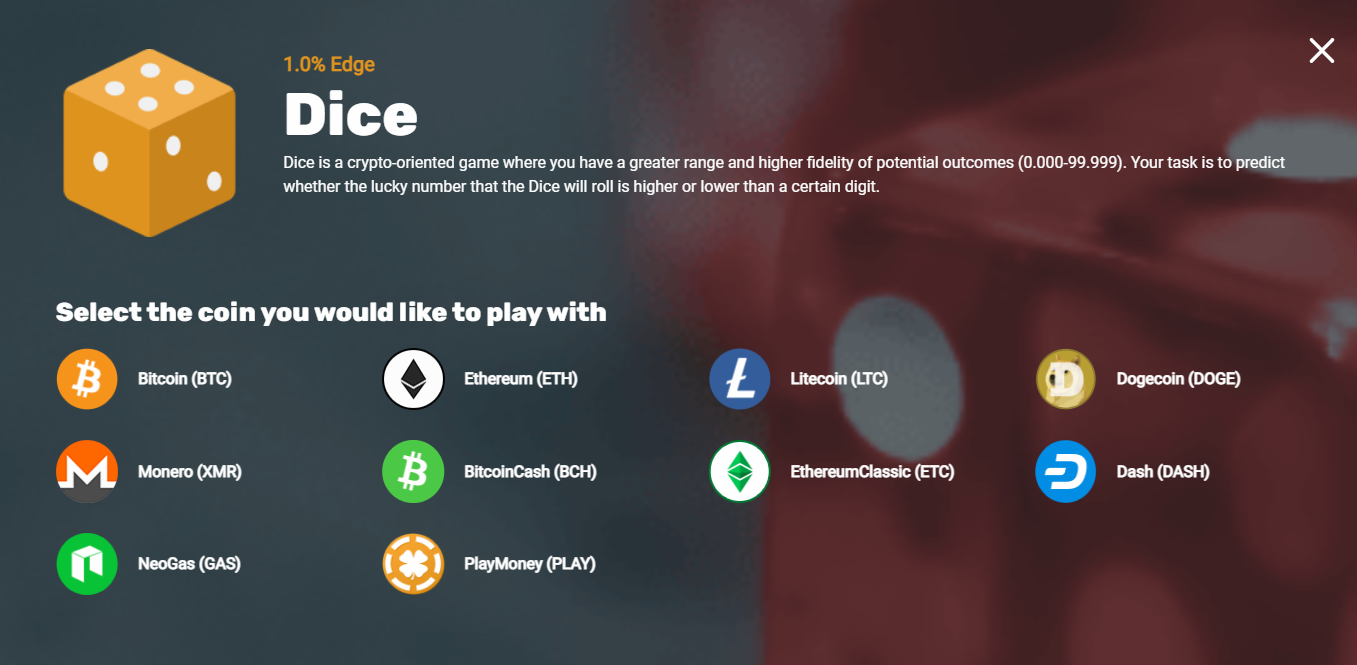 You can also play for free using the PlayMoney feature and the built-in faucet. Faucet is a feature that hands out money to new players every three minutes. You can test all of the available games without any risk of loss before you make a deposit. You can level up your number of faucet requests by raising your player level.
Betting limits:
For Slots, the betting limits are between 10 (0.00001 BTC, 0.0002 ETH, 0.001 LTC, 0.001 DASH, 0.001 XMR, 0.0001 BCH, 10 DOGE, 0.001 GAS, 0.001 ETC) and 5,000 Credits (0.005 BTC, 0.1 ETH, 0.5 LTC, 0.5 DASH, 0.5 XMR, 0.05 BCH, 5,000 DOGE, 0.5 GAS, 0.5 ETC).
For Blackjack, Plinko and Roulette, the limits lie between 0.00001 BTC, 0.0002 ETH, 0.001 LTC, 0.001 DASH, 0.001 XMR, 0.0001 BCH, 10 DOGE, 0.001 GAS, 0.001 ETC and up to 4 BTC, 35 ETH, 15 LTC, 1.1 DASH, 5 XMR, 10 BCH, 300,000 DOGE, 100 GAS, 50 ETC).
For Dice and Minesweeper, your bet amount depends entirely on the payout.
The base amount for all deposits and withdrawals:
The base amount for all deposits of each transaction is given below:
0.0001 Bitcoin
0.01 Ether
0.01 Litecoin
0.02 Ether Classic
20 Dogecoin
0.01 Monero
0.001 Bitcoin Cash
0.01 Dash
0.02 GAS
Any amounts lower than the stated will not be credited to the user's account.
Please note that only fully registered players are permitted to make deposits.
The base amount of withdrawal is set at 0.0005 BTC or altcoin equivalent.
There is, however, a fee for all your withdrawals. CryptoGames is giving all its players the option to choose the best fees for all their withdrawals. Just like the betting speed and amount relation, your transaction fees WILL affect your transaction speeds. So, the higher the transaction fees, the faster the confirmation.
The casino updates its recommendation of fees every 10 minutes from BitcoinFees API.
Speed up your betting with the following information!
If you are betting 1000x the minimum bet (0.00001 BTC, 0.01 DASH, 1000 DOGE, 0.01 ETH, 0.01 LTC, 0.0001 BCH, 10000 PLAY, 0.001 XMR, 0.01 GAS or 0.01 ETC) the casino will prioritize your bet speed. Meaning, if your current bet amount is closer to the minimum bet of the selected coin, automatically your bet speed will decline.
In simpler words: the time required for your bet results to be processed depends greatly on the amount you are willing to gamble.
However, by verifying your account at the provided link on the website, you can earn the highest priority every time you place a bet (your betting amount does not matter in this case).
We explain with an example of how your lowest bet amount's speed will decide how fast or slowly your bets are to be placed: Imagine, you have placed one autobet at 0.00001000 BTC, a second one at 0.00000500 BTC, lastly the third one at 100 DOGE.
In this case, it will be obvious that the 100 DOGE auto bet will decline the other two autobet's speed as if you only placed a bet of 0.00000100 BTC. This happens because the smallest bet amount is only 100x of the minimum, although the other two betting amounts are more than that.
Apart from all these, your connection to the server may affect the speed of your betting and other activities on the website. So, to get smoother, nonstop processing of bets, transactions, exchanges or any other activities, make sure your connection is fast and at a lower distance from the casino's servers.
Your guide to the Exchange Service for currencies:
With the super effective inbuilt exchange service, players can access the casino's "Exchange" page. There they can exchange between cryptocurrencies of their choices. Check out the updated list of currencies on the website's home page. All of the exchange rates are consistently updated automatically. This function, like the deposit function, works only for the registered users.
From the discussion above, we bet you can already tell that CryptoGames is like no other online casinos out there in this period. It is practically everything a spontaneous gambler would choose as best. But just to convince you more, here are a few other details that made us recommend CryptoGames to all.
A transparent Privacy Policy:
Currently moving forward with the latest updates and world-class security protocol, CryptoGames is taking the spot at the top one step at a time. While the internet is filled with scammers and deceiving online casinos, CryptoGames has your back at all times when it comes to safety. The game developers are always on their toes to provide you with the highest quality and achieve better customer satisfaction each time!
The "Security" tab under "Your Account" ensures your account's protection as soon as you set up an email address and a password. It also ensures that you will have full access to the website's facilities. The setup is completed after you receive a confirmation email from the support team. Although it should be engraved in every user's mind, it is still noted on the website that you MUST NOT share any bit of your information with anyone. If, in any case, you receive an email regarding privacy issues and the sender pretends to be a staff asking for your details, the team urges you DO NOT RESPOND. Because they will never ask for your passwords.
Another measure taken to increase the level of security is Two-factor Authentication. It is set up by using the google 2FA application. If you are still confused about the architecture, their blog posts about the security system are always there for you.
Secure Transactions and Exchanges:
It comes as no wonder that hackers are always on their toes to hack into online casinos around the globe. But at this casino, you can remain calm and play away with the most systematic security measure.
Acting like the cherry on top of a cake, the "cold wallets" add up to your guaranteed protection at all times. CryptoGames addition of this highly efficient digital wallet makes sure your currencies and assets are protected at any cost. Even if any mishap occurs, your assets will be transferred directly to this wallet and remain frozen until proper measures have been taken.
As mentioned above, to prevent hackers from getting a hold of your account, it uses two-factor confirmation through SSL encryption and google 2FA. These protection features are updated to the latest version constantly through effective maintenance. Since the withdrawal of your cryptocurrency must always be verified through your email account, you will be alerted if there are any suspicious attempts by an outsider.
Highly rewarding VIP Membership
Requirements for membership:
To achieve Premium VIP Membership, players must secure one of the top spots at the casino's monthly betting contests. As of now, the top five players on the Bitcoin and Ethereum leaderboard, the best three players for Litecoin and the best player for the remaining coins will be able to enjoy the exclusive membership for an entire month. Note that, PlayMoney winners do not qualify.
VIP Rewards:
Right after you win your VIP title, the following list of rewards will be automatically yours to indulge in.
Play the game of Dice with an exclusively low edge of 0.8%.
Enjoy the aid of absolutely no server delay during your bet's placement. Regardless of the size, you will be able to enjoy the highest bet speed for an entire month.
All VIP members will be rewarded with the privilege of better and higher exchange limits! VIP players can exchange currencies up to 10 times a day with a total limit set to 1 Bitcoin!
Along with the general chatroom, players will be able to check out the VIP chatroom. This private chatroom brings together the players and managers of the casino under the same radar.
to make your chatbox fancier, you will have the [VIP] tag beside your regular name tag.
VIP members get to celebrate their birthdays with 100 dollars' worth of Bitcoins presented by CryptoGames. This, though, is applicable only for VIP members who have tier 3 verification (KYC) or higher.
Additional faucet level will allow you to collect more rewards!
All VIP members will get numbers of monthly vouchers through their email. A member's position in the betting contest will determine the number of vouchers and the currency they will receive. In the case of multiple wins at multiple contests, players will receive a reward for only one with the highest prize value. The reward vouchers are distributed only on the 2nd, 3rd and 4th week of every month!
Exclusive for Bitcoin, Ethereum and Litecoin VIP members:

1st place winners get 3 vouchers,
2nd place gets 2 vouchers.
And 3rd place gets 1 voucher per month.
Every BTC/ETH voucher is worth around $50, and LTC voucher is worth $40 each.
Exclusive for Monero VIP members: 1st place winner gets 1 voucher per month where each voucher is worth $40.
All Other Coins Using Members: 1st place winners get 1 voucher per month, and each voucher is worth $30. PlayMoney winners are unfortunately not rewarded anything.
Our Final Conclusion: Is it truly a worthy trendsetter?
As you reach the end of this article, we hope you have gained enough idea about the absolute best, eventful, and organized online casino out there. After ruling the betting community for quite a long time, CryptoGames is set to get only better with each passing day. They are consistently working harder to provide maximum satisfaction to all their users. Now, after all the detailed discussions about the casino, we hope to have raised your curiosity regarding CryptoGames' world-class services.
So, what are you waiting for?
Go check out the hottest casino of the era with one click and enjoy your gambling experience to the fullest!
Links of interest
CryptoGames: https://crypto.games/
Facebook: https://www.facebook.com/CryptoGames/
Blog: https://blog.crypto.games/
Twitter: https://twitter.com/Crypto_Games
BitcoinTalk ANN: https://bitcointalk.org/index.php?topic=750760
Discord: https://discord.gg/xassxQr
Page Contents
A brief guideline for your new favorite online casino! 

---

Get to know all the games and currencies supported:

---

Credit to currency conversion:

---

House Edges for the games:

---

Play with 9 up to date Currencies and their limits: 

---

Your guide to the Exchange Service for currencies:

---

Highly rewarding VIP Membership

---

Our Final Conclusion: Is it truly a worthy trendsetter?

---

Links of interest

---