Does Amazon Accept Bitcoin, Dogecoin or Ethereum
21. Feb 2023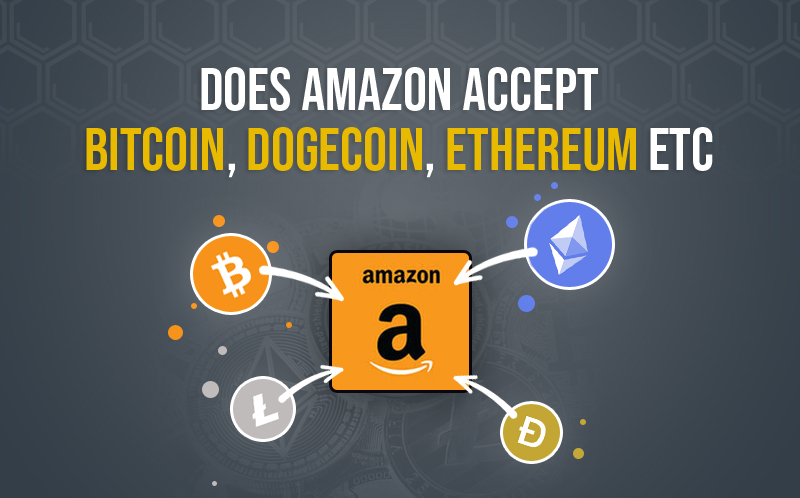 Does amazon accept bitcoin? Or any cryptocurrency? Let's face it: Crypto's popularity has skyrocketed over the years. Many companies accept Bitcoins as payment, such as Etsy, Newegg, Shopify, Overstock, and Paypal. Unfortunately, with Amazon, there are a couple of hurdles to overcome.
This retail behemoth has yet to join the decentralized economy. Until then, there are other ways you can navigate your crypto spending to pay for different Amazon products. Here is how you can spend your cryptocurrency reserves to buy stuff on Amazon.
Does Amazon Accept Bitcoin?
Does Amazon accept Bitcoin? This e-commerce juggernaut doesn't directly accept Bitcoin or other cryptocurrencies. The simplest way to spend your hard-earned crypto is to buy Amazon gift card with Bitcoin. Gift cards are redeemable for purchases of all kinds of merchandise and services that Amazon has to offer.
Despite it being the most traded, held, and purchased crypto on the globe, Amazon doesn't accept Bitcoin as a direct form of payment. Many speculate that Jeff Bezos, the founder of Amazon is not that keen on using crypto. Mainly because it is highly unregulated and anonymous.
Another theory suggests that Amazon might roll out its own crypto, and Bitcoin could become its digital currency rival. If you are looking to buy Amazon gift card with bitcoin, then Coinsbee is an excellent choice. Coinsbee has a massive partner list, ranging from Amazon to Steam, Netflix, and more. You can buy a gift card with crypto and then spend it on Amazon.
Does Amazon Accept Dogecoin?
Does amazon accept dogecoin? While you can't make a direct purchase with Dogecoin on Amazon, you can turn your existing currency into a gift card. Amazon does accept gift cards, and through Coinsbee, you can pay for these digital cards with Dogecoin.
This is the fastest workaround for buying things with crypto. People also want to know does Amazon accept Ethereum? You can trade your Ethereum coins for a gift card on Coinsbee. This is the simplest method for spending your crypto on Amazon.
Can You Use Tether to Buy on Amazon?
Does amazon accept USDT? Tether (USDT) is a stablecoin, another type of crypto that has a relatively stable price point. If you are looking to make some purchases on Amazon with USDT, then you would still need to use gift cards.
Since this online retailer doesn't directly accept USDT or any crypto, you can fund your Coinsbee blockchain wallet and get the amazon gift card you need.
Can You Buy Anything on Amazon With a Gift Card?
No. You can't buy everything on Amazon with gift cards. Unfortunately you cannot use the voucher to top up your Amazon Prime account. You can only redeem your gift cards for eligible services and goods. But, there are millions of eligible products you can spend the gift cards on. Such as computers, clothes, electronics, books, and more.
Will Amazon Ever Accept Crypto?
Based on a 2022 interview with Andy Jassy, Amazon's Chief Executive Officer, this online retailer giant won't be accepting digital currencies anytime soon. The CEO stated they do expect crypto to become more mainstream, in the long run. He added he doesn't own any Bitcoin himself.
Currently, there are no other updates as to when Amazon will allow direct purchases with Bitcoin or other crypto payments. In the meantime, the simplest and fastest method to use your crypto is through gift card purchases.
Conclusion
Even though you can't directly spend your Bitcoin, Dogecoin, or other cryptos on Amazon, it shouldn't stop you from using your crypto reserves to buy things from this retailer. With Coinsbee, you can work around this problem and get gift cards you can use from over 500 major retailers and brands, including Amazon. This enables you to purchase diverse goods and services with your crypto of choice. What are you waiting for? Buy your Amazon gift card with Bitcoin or other cryptos.
Page Contents
Does Amazon Accept Bitcoin?

---

Does Amazon Accept Dogecoin?

---

Can You Use Tether to Buy on Amazon?

---

Can You Buy Anything on Amazon With a Gift Card?

---

Will Amazon Ever Accept Crypto?

---

Conclusion

---