Shop with your cryptos on Blackfriday
15. Nov 2021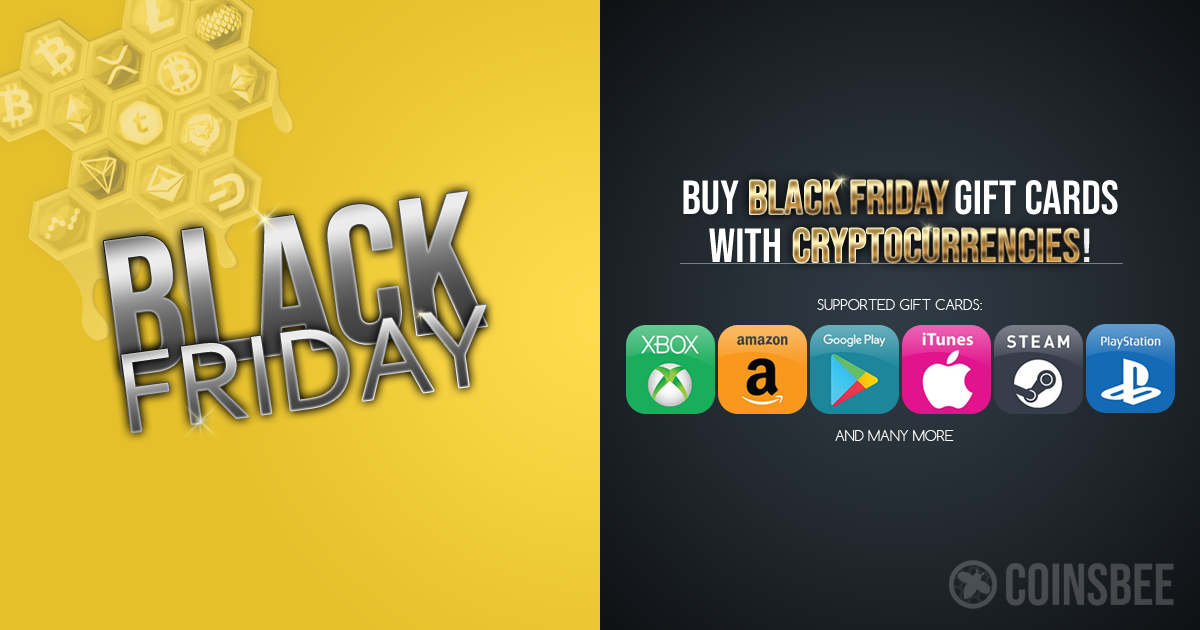 Black Friday is the day after Thanksgiving Day on the last Thursday of November. Black Friday is the most prominent retail sales event in the United States (and now, many other countries worldwide) and is the start of the shopping season for the holidays.
The Monday after Black Friday, known as Cyber Monday, is a day-long shopping event created to drive people to shop online. Cyber Monday is considered an extension of the Black Friday sales. Both these shopping extravaganzas feature leading online and offline retailers offering you incredible offers on appliances, tech, household goods, apparel, and much more at significantly discounted prices.
At Coinsbee, you can now use more than 50 types of cryptocurrencies to purchase gift cards from major retailers so you can enjoy the massive discounts offered. Coinsbee makes it possible to shop with BTC at all your favorite stores or use any of more than 50 other cryptocurrencies, including Ethereum, Litecoin, XRP, and TRON, to purchase Blackfriday gift cards.
Benefits Of Bitcoin Blackfriday Gift Cards
At this time of the year, considerable savings are never far away, and the best part of holiday shopping is managing to find must-have items at discounted prices you cannot find at any other time of the year. You can get a head start and shop with ETH or pick something special for yourself or a loved one with a Blackfriday gift card.
Bitcoin Blackfriday gift cards offer you several advantages that include:
Gift cards are an excellent alternative form of payment when you would instead not use your credit card or pay cash.
Gift cards are a great gift to give family or friends for the holidays.
You can use your Blackhriday gift cards to control your holiday season spending.
Gift cards are convenient and easy to use.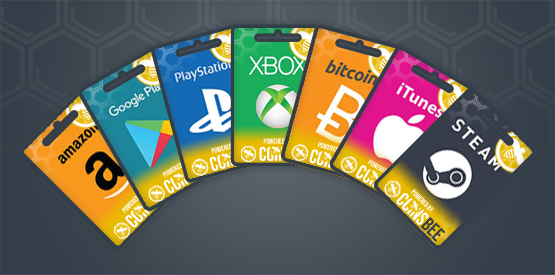 What Are Some Of The Most Popular Blackfriday Gift Cards You Can Buy With Crypto?
Buying a Blackfriday gift card from Coinsbee is a quick and easy way to shop with BTC. Coinsbee supports gift cards from different regions in the world. Best of all, you can use a range of cryptocurrencies to buy yourself or a loved one a Blackfriday gift card from any of the major retailers, including:
Amazon
Amazon has some incredible Black Friday deals available. For the 2021 holiday season, the e-commerce giant introduced what the company dubbed its "Black Friday-worthy deals."
Besides offering incredible discounts on its catalog of beauty products, Amazon has also dramatically slashed the prices of its Alexa-powered gadgets and pet gifts, kitchenware, toys, apparel, and much more. You will find Black Friday deals on some of 2021's most sought-after items, including cast iron Le Creuset ovens, Apple AirPods, and LOL Surprise! Dolls.
Click here to buy Amazon gift cards with your crypto.
eBay
Coinsbee.com makes it incredibly simple and affordable to buy an eBay gift card and take advantage of the enticing offers available for Black Friday and Cyber Monday. You can use Litecoin, Ethereum, Bitcoin, or one of many other cryptocurrencies to pay for your gift card, which you will receive via email.
eBay gift cards are an excellent choice for Black Friday. Whether you are looking for something unique, new, or in-between, your eBay gift card is an excellent way to buy the perfect gift. The card allows you to shop with ETH or BTC from a selection of billions of gifts in various categories like collectibles, home and garden, electronics, fashion, motors, art, toys, and more.
Best yet, an eBay gift card has no fees and never expires.
Target
Target is the second-largest retailer in the US. Thanks to its massive network of brick-and-mortar stores and extensive online presence, it also offers one of the most versatile and convenient gift cards in the Coinsbee catalog.
Every Black Friday, thousands of shoppers flock to the Target website and stores for everything from clothes and toys to electronics. The average Target Black Friday discount is 37.6%, higher than its three largest competitors - Amazon, Best Buy, and Walmart.
Walmart
You can find Walmart gift cards in various values, and you can use them at the retailer's website, Walmart's brick and mortar stores, Sam's Club, or at selected Murphy USA gas stations.
Dubbed "Deals for Days," Walmart's Black Friday and Cyber Monday sale events provide substantial price cuts on everything from classic LEGO sets to Samsung earbuds and everything in-between.
Now, you can use any one of more than 100 cryptocurrencies to purchase your Walmart gift card at Coinsbee and take advantage of the fantastic "Deals for Days" Blackfriday offers.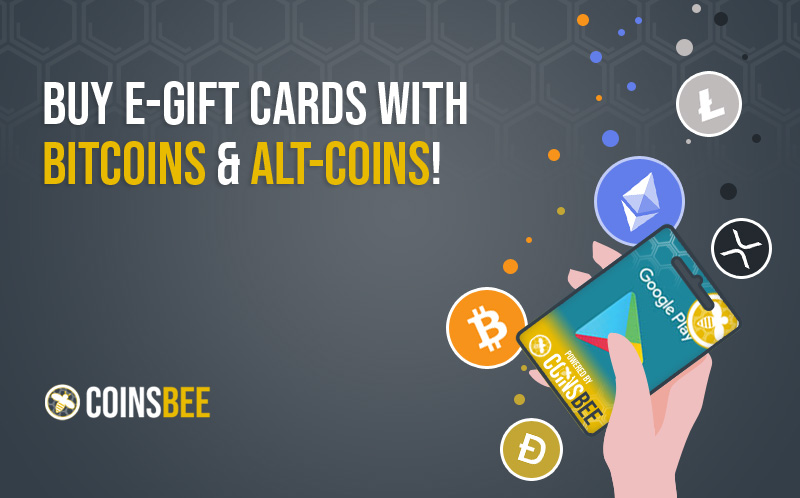 Buy Your Blackfriday Gift Cards At Coinsbee
Coinsbee provides you with the fastest and easiest way to make your BTC Blackfriday shopping wishes a reality. We understand that it can be tough to decide what gift items to buy for the holidays, but gift cards make it much easier for you or your loved ones to get what you want.
You can now buy Black Friday gift cards redeemable in various regions at a one-stop online shop using more than fifty different digital currencies. Wait no further: Click here to buy gift cards from the world's top retailers.
Page Contents
Benefits Of Bitcoin Blackfriday Gift Cards

---

What Are Some Of The Most Popular Blackfriday Gift Cards You Can Buy With Crypto?

---

Buy Your Blackfriday Gift Cards At Coinsbee

---